China City Guides
China Destination Guides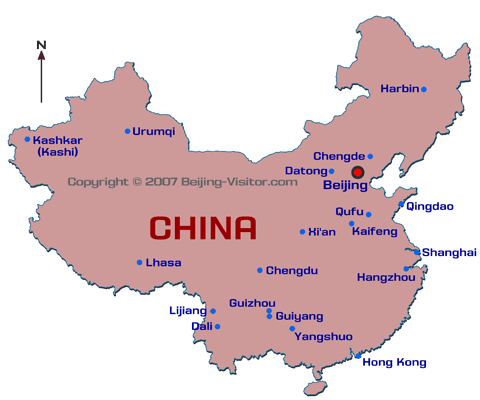 Beijing
China's capital and the host city of the 2008 Olympic Games. Beijing is a treasure trove of Chinese culture: The Forbidden City, Tiananmen Square, the Great Wall, museums, parks, temples and stunning modern art and architecture.
---
Shanghai
Shanghai - known as "The Head of the Dragon" for its leading role in China's economic miracle - has much to see: the historic skyscrapers of The Bund, Yu Garden, The French Concession area plus a ride on the world's fastest passenger train.
---
Chengde
The former Qing Dynasty (1644-1911) resort of Chengde, about 230 kilometers from Beijing in northeastern Hebei Province, makes a great weekend getaway from the Chinese capital.
---
Chengdu
Chengdu, the capital of the southwestern Chinese province of Sichuan, is now a bustling international metropolis of more than ten million people, making it China's fourth largest city.
---
Dali
The picturesque town of Dali in southwest China's Yunnan Province is one of those places, like Yangshuo and Lijiang, which has really taken Western backpacker culture to heart.
Dali, Yunnan, China
---
---
Datong, China
Datong
Datong in Shanxi Province near the border with Inner Mongolia has some fascinating and picturesque ancient sites, remnants of the city's glory days as the capital of two dynasties.
---
Guangzhou (Canton)
Feel the modern buzz of the Pearl River Delta metropolis of Guangzhou (Canton) and experience the preserved, old colonial atmosphere of Shamian Island.
---
Guizhou
Located in southwest China, Guizhou Province is a less well-known travel destination for many visitors to China, but offers spectacular scenery and a vibrant ethnic culture.
---
Hangzhou
Hangzhou, the capital of eastern China's bustling Zhejiang Province, has beautiful scenery and plentiful attractions.
---
Harbin
Situated in northeastern China, Harbin is the country's northernmost provincial capital and famous for its annual Ice and Snow Festival.
---
Huang Shan
Huang Shan (meaning Yellow Mountain in Chinese) is actually a series of 77 mountain peaks in eastern China's Anhui Province and a UNESCO World Heritage listed site with China's best scenery.
---
Kaifeng
Known in Chinese as the "Capital of Seven Dynasties", Kaifeng is a sleepy, enchanting city, yet to be remolded by the breakneck development which epitomizes much of China today.
Iron Pagoda & Reflections of the Dragon Pavilion, Kaifeng, Henan, China
---
---
Kashgar & Urumqi
Kashkar
The legendary city of Kashgar, self-styled "crown jewel" of the Silk Road, sits on the western edge of Xinjiang's baking Taklamakan Desert.
---
Lhasa
Lhasa, capital of the mountainous region of Tibet (or "Xizang" in Chinese) means "Land of the Gods", and sits in a valley adjacent to the Kyichu (Lhasa) River.
---
Lijiang
Lijiang is one of the highlights of any tour of southwest China's Yunnan Province.
---
Nanxun
Situated east of Huzhou in northern Zhejiang Province, charming Nanxun is one of many "Venetian-style" water towns on the lower reaches of the Yangtze River.
---
Pingyao
Pingyao with its city wall, charmingly rustic inhabitants and traditional Shanxi food make this remarkably well-preserved, former merchant town an increasingly popular travel destination.
---
Qingdao
The city of Qingdao in Shandong Province, formerly known as Tsingtao, compares with Dalian as one of northeast China's most beautiful coastal resorts.
---
Qufu
Located in eastern China's Shandong Province, Qufu is the birthplace of the philosopher Confucius.
---
Urumqi
Xinjiang is a land of extremes. It is the largest and driest Chinese region, containing the Earth's hottest place, coldest place, longest inland river and lowest marsh.
---
Xi'an
Capital city to 13 imperial dynasties, Xi'an, formerly known as Chang'an, was a key city on the Silk Route connecting Asia with Europe.
---
Yangshuo
Located in southern China's Guangxi Province, the region around Yangshuo contains some beautiful rural and mountain scenes.
---
China Attractions
Find individual sights and attractions throughout China.
Learning Chinese
Does learning Chinese have to be so tough.
---
Book Hotel Accommodation in Beijing China
Hotels in Beijing - Bookings
Hotels in Beijing - Agoda
Hostels in Beijing - Hostelworld
Book Deluxe Hotels in Beijing
---