China Autonomous Regions
China Destination Guides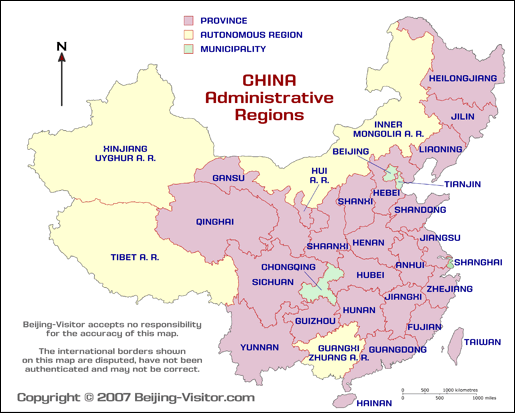 Autonomous Regions
China's 5 autonomous regions are: Guangxi, Nei Mongol, Ningxia, Xinjiang Uygur, Xizang (Tibet).
As well as China's 23 provinces or sheng - the government of the People's Republic of China (PRC) considers Taiwan to be its 23rd province - China has 5 autonomous regions or zizhiqu, 4 municipalities or shi and the Special Administractive Regions (SAR) of Hong Kong and Macau.
China's 4 municipalities are: Beijing, Chongqing, Shanghai and Tianjin.
Guangxi
Guangxi Province in southern China has an enticing mix of ethnic populations among its approximately 46 million inhabitants. The capital is Nanning and highlights of the Guangxi region include the beautiful scenery of Yangshuo and cruising on the Li River at Guilin.
Nei Mongol
Nei Mongol (Nei Menggu) or Inner Mongolia in northern China borders Mongolia to the north and Russia to the north east. This vast region of steppe and grassland is still home to a Mongolian culture - about 15% of the population are ethnic Mongolians. The capital is Hohhot with a population of around 1.2 million people.
---
---
Ningxia
Established in 1958, the autonomous region of Ningxia in north central China is a dry, poor province marked by the Tengger Desert to the west. Yinchuan, population 1 million on the Yellow River is the region's capital city.
---
Xinjiang Uygur
Located in northwest China, Xinjiang borders "the Stans": Kazakhstan, Tajikstan and Kyrgyzstan. The region's attractions include the Silk Road town of Kashgar on the edge of the Taklamakan Desert, the capital of Urumqi (Wushi), Lake Karakul and the Karakoram highway into Pakistan plus Kanas Lake, home to a Chinese version of the Loch Ness Monster.
---
---
Tibet (Xizang)
Now more accessible since the building of the rail route to Lhasa, the Tibetan plateau - the "Rooftop of the World" - at over 4,000-5,000 meters above sea level, has caught the imagination of travelers for centuries. Lhasa is the capital of the mountainous region of less than 3 million inhabitants and means "Land of the Gods".
---
Book Hotel Accommodation in Beijing Here
Hotels in Beijing - Bookings
Hotels in Beijing - Agoda
Hostels in Beijing - Hostelworld
Book Luxury Hotels in Beijing
---